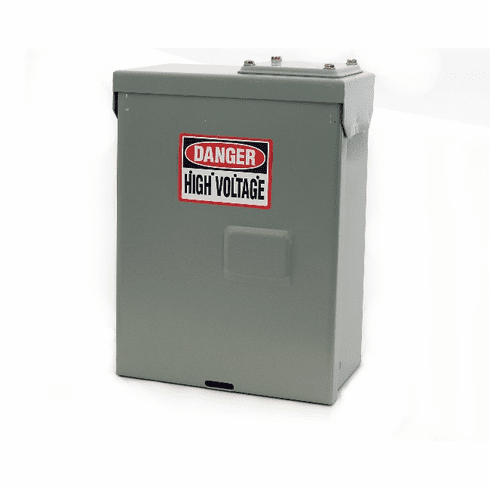 Ebox Indoor/ Outdoor Self Powered Spy Camera (96 hours)
Spy Cameras Hidden In Everything! Only From AES
Introducing the Ebox Indoor/ Outdoor Self Powered Spy Camera!
Great for use on construction sites, entrance ways, parking lots, or anywhere that power in not readily available. The new Electrical Box DVR offers outstanding covert outdoor security recording in a completely self contained package. Metal weatherproof electrical box measures only 14 x 10 x 4 inches Hi-Resolution video images are recorded on a small SD card whenever motion is detected. Rechargeable batteries operate unit for 4 full days (96 hours) on a single charge. Camera views out front of box but can be custom ordered to view from either side.
ELECTRICAL BOX DVR FEATURES:
~ Active 4 Days on a Single Charge
~ "High Voltage" Warning Label Discourages Meddlers
~ Concealed Camera Invisible to Onlookers
~ Locking Electrical Power Box
SYSTEM INCLUDES:
~ Electrical Box DVR
~ 1 Sets of Rechargeable Batteries
~ 1 Recharger
~ 2GB SD Card (Can be up grade to 16GB SD card)
~ AC Adaptor (for hard wire applications)
~ RCA video cable
EXCLUSIVE ADVANCED FEATURES:
1. For those who want the very best, we offer exclusive features found only on high end DVRs.
2. Powered by the world leader in "image capture to memory card" technology.
3. High Resolution 640x480 Video @ 12fps - Super sharp images aid in face recognition and video detail.
4. Selectable Frame Rate: User programmable frame rate setting .
5. Selectable levels of video quality - Select the video quality needed for the application, conserving memory space.
6. Advanced Motion Activation with masking - Grid and Sensitivity adjustments allow for "masking out" areas of the picture (such as computer screens, ceiling fans and other movements of no interest); prevents false triggering.
7. Video Compression MPEG4
8. Motion activated video recording
9. Supports 1 channel video
10. Supporst 1 channel audio
(optional)
11. Time/Date Stamp
12. Uses windows media player or "Divx" for playback on PC
13. Supports up to 16Gb SD card
14. Approximate Video Record time 5 Hours per 1Gb for continuly video
15. Memory space auto recycle.
16. System fully programmable.
EASY TO RECORD:
No need to hassle with complicated camera and VCR wiring or wireless cameras that transmit your images all over the neighborhood! The electrical box (digital video recorder) is completely self contained, totally secure, and easy to use. It's an actual "high voltage" main lug electrical load center, but hidden inside is a COLOR high resolution camera and motion activated DVR! All you do is turning on the switch. The unit will be once to verify command and quality color video recording will begin the instant motion is detected and will continue until 10 seconds after motion ceases.
SECURE PLAYBACK A SNAP!
When you are ready to review your video images, simply remove the "postage stamp size" SD card from it's hidden compartment. To playback images, just insert the SD card into your computer or laptop card reader. Click on the SD icon and view a complete list of images, including time and date stamps for each recording. "Click" on any image and the video stream will play from that point on. You can save the videos or download your images to CD, hard drive, Zip, or any other media of your choice. SD card can be quickly erased and reused again and again. Or you can connect to the TV/Monitor via a RCA cable, use the system control panel keypad (inside the box) to playback on your TV or Monitor
Shipping:
We will try to ship orders the same day payments are received.
Payment received after 5PM EST will be shipped the following business day.
Average US delivery time is 2-5 days (Ground).
Atlantic Electronic System Inc. Appreciates Customers!
~ We will answer any questions before you buy and support you after your purchase.
~ We can walk you through how to set up your new camera.
~ If there are any problems with your camera, we can help you over the phone, or assist with a repair or exchange of your product.
~ With AES, you can feel free buying from us, we want you to be happy!
Thank you for your interest.
The Atlantic Electronic Team